Vessel Strategy and Consulting…
helps dreamers and doers follow through, get their work done and live a life they truly care about.
We provide direct, immediate project planning for creative nonprofits, savvy businesses, and clear problem solving for individuals ready to live and work a different way.
Vessel can help you:
Find clarity and direction in the midst of overwhelm

Gain insight so you can see the clearest path in the direction you want to go

Discover new strategies and systems that help you make the most out of professional growth and personal change

Complete your next big project without stress and worry

Connect with your team, so you can work together in a healthier, more productive way
Working on business strategy with Annie is equal parts cocktail party and rocket science. She's one of those rare people who can deliver incisive, actionable insights (including, ahem, the occasional criticism), in a way that makes you feel you're just the right person for the job–even as she's helping you figure out what the freaking job is!

Scott Squire,

Owner, NonFiction Media
Annie challenges us to think more globally and to make sure all voices are heard. She is an amazing facilitator that brings out the best in everyone present.

Janet Schmidt,

Network Director, SOWA
Annie's ability to discern the dynamics of group work and process are invaluable. Annie goes above and beyond to produce results that matter. She adapts to unanticipated change and every challenge that arises.

Amanda Thomas,

Director of Community Partnerships, Tacoma Public School District
Annie gets results. She has the ability to synthesize multiple pieces of a complex project and produce cohesive outcomes.

Jackie Jainga Hyllseth,

Quality Initiatives Director, SOWA
Annie brings a positive outlook, she reminds us that we have more in common than we do different. She draws us back to what we are working on without people ever feeling shut down. Annie kept us moving in the right direction and focused on a goal so we could accomplish what we set out to do.

Kim Reeves,

Customer Service, GLi
Annie is a creative communicator and she is very clued in to organizational dynamics. Annie's kindness, personal integrity and thoughtfulness make working with her a joy.

Yael Falicov,

Executive Director, EcoViva
The way Annie facilitates meetings is excellent. She would help us figure out what we needed with a positive energy that you just don't see every day. This led to a lot of synergy which helped us drill-down on some key issues resulting in excellent solutions that worked well for the various teams involved.

Tye Walker,

Customer Service, GLi
Since we've been working together, I've reached past the borders of my comfort zone and acquired new clients. Anna's a gem!

Kathy Paul,

Owner, Messagecraft Marketing
Permalink
Gallery
Tacoma Public Schools Partnership Office
Tacoma Public School District (TPSD) has made partnership one of its top four strategic [...]
Graphic Label, Inc. (GLi) is a family-owned business based in Yakima, Washington, and serving [...]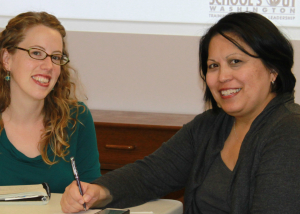 Schools Out Washington (SOWA for short) is an intermediary organization connecting the amazing afterschool [...]
Here I offer thoughts and techniques for getting the work done, powerfully living out your dreams and being good to yourself and others.  
This is a breathing space in the middle of a busy day. 
When the work is stacked up; the meetings are back to back;
you're slightly sick from staring at the onslaught of emails;
the insurance company reopened the claim;
another friend is sick, sad, grieving…
Get up from your chair.
Squint out the window. Find a good looking tree through the glass.
Pet an animal.
Crank up the music. Dance like a 3 year old full of sugar and good vibes.
Walk outside. Find another living creature to watch, a bird, a squirrel, a human at a bus stop.
Buy a piece of fruit.
Go to the shore, any shore.
Ocean shore, lake shore, river shore.
Lay down on the kitchen floor, close your eyes, breath.
Invite yourself over to a friend's house for dinner.
Say hi to a stranger.
Smile at yourself in the mirror.
Watch a sad movie and cry.
Turn the t.v. off.
Go back to the shore.
Any shore.